Ticket Support
It's a
web system
that let ItalianServers to manage all the tecnical, commercial and administrative requests of our customers.

It's like a control panel that through username and password access allows to monitor all your requests and check our staff efforts to solve problems. We suggest to use it to reduce email use even if you can go on using it. The Ticket System is accessible through the green form on the top left.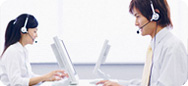 Special Support Programs
You can contact
Italian Servers
throught fast and simple media to use for everything you need: F.A.Q.s, Trouble Ticket, Forum and email. In this way you don't have to call to solve your problems saving time and money!

F. A. Q. s
In the
FAQ page
you can read all the general questions that customers usually do. They are divided in categories to make the search simple. This should be the first thing to read if you are deciding to choose our services or if you're already a customer of ours..

Live Support
In some pages there is an area called
"Live support"
with a picture of a man wearing earphones and a microphone.
Clicking on the picture
it's possible to chat and contact our staff. If you have any doubt you can receive information about services, activations and payments through this system. If you are already a ItalianServers customer, you may simply and immediatly contact our staff to have commercial, technical and administrative support.